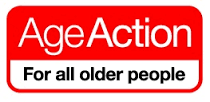 Bishopstown Senior Social Centre Promotes
Age Action
Ireland
For All Older people
CARE & REPAIR
Free Odd-Job/DIY Service for Older People
Are you 65 + years? Do you have a small repair job that you would like to have done? Age Action Ireland's leading charity for older people.  Our Care & Repair service uses a pool of trustworthy handypersons to carry out minor repairs and odd jobs for older people who find it difficult to do these jobs themselves.
Some of the jobs that our volunteers can do include changing light bulbs, tacking down carpets, minor painting and decorating, hanging curtains, minor gardening, minor carpentry, and installing smoke alarms. The service is free ; you only pay for the materials used.  For bigger jobs that are beyond the scope of our volunteers, we maintain a register of reliable and honest tradespersons whose contact details we can provide. We also arrange regular visits to older people.
All volunteers are Garda vetted and carry official Age Action identification cards. To arrange to have a job done for you, simply call 021-2067399  and we will arrange to have local volunteers contact you.
Phone 021-2067399              Also contact —–   http://www.ageaction.ie/